Rhubarb! I know you have been seeing it in your supermarket and farmer's markets.
I bought my first rhubarb of the season on Saturday from my pal, Phyllis. She was out working for a local farm that I can practically see from my office (if my office had a window).
My children were excited when I brought it home because they know it means dessert. Here is a photo in case you haven't seen rhubarb: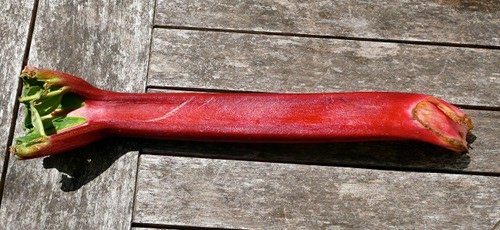 Why do I like it?
An entire pound of rhubarb has a whopping 95 calories.
It is delicious - sour, sweet, crunchy, yum!
It is so EASY to cook.
Every year, I put out a new rhubarb recipe to try to entice you to try it. This year, I found a cookbook of New England cooking for $6 at a League of Women Voters book sale. Since I live in western Massachusetts, this was a good choice to help me figure out what to do with the regional produce (pumpkins, apples, blueberries, lobster, etc.).
I like this recipe because it doesn't take a lot of time or ingredients. I had everything on hand and whipped this up before you could say "rhubarb is in season". Using a casserole dish in an oven rather than on the stove is easier for me (as long as I put on a timer) because I am frequently parenting, cleaning, and breathing all at the same time.
Give it a try!
What is your favorite way to serve rhubarb?
print
Pin It
Baked Rhubarb Compote Recipe
Makes 8 servings
8 stalks rhubarb (about 1 ½ pounds)
2/3 cup strawberry or raspberry jam
1/4 cup sugar
Preheat the oven to 350 F. Wash the rhubarb and cut the ends of each stalk. Slice into 1 inch pieces along a diagonal. Spread ⅓ cup of jam on bottom of small casserole and add the rhubarb. Dot with ⅓ cup jam and sprinkle sugar on top. Cover the dish and bake without stirring for 25 minutes until rhubarb is tender.
Let cool to room temperature and serve with whipped cream (if you have it).
143 calories, 0.2 g fat, 0.0 g saturated fat, 34.9 g carbohydrates, 7.2 g sugar, 0.8 g protein, 1.5 g fiber, 3 mg sodium, 4 Points+
Points values are calculated by Snack Girl and are provided for information only.
Want more recipes like this? Check out my book
Other posts you might like: