9 December 18, 2014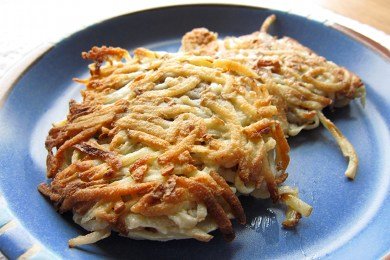 THE holiday food of Hanukkah is the potato pancake (AKA latke). The traditional recipe for potato latkes can include 3-4 cups of oil.
Yikes! (but that does sound delicious :)
I actually think latkes are a GREAT holiday food. Potatoes, onion, egg, and flour - there isn't anything but yumminess in the basic recipe.
Continue reading A Healthier Version of Potato Latkes
Recent Posts:
The Winners of The Wonderful Pistachios


December 17, 2014

I picked 10 winners at random from a pile of entries. I wish I could send you all Wonderful pistachios!.... read more

No Time to Bake Cookies? White Chocolate Popcorn Saves the Day
25 December 17, 2014

I am sure you have plenty of time on your hands right now. I can tell because so many of you are taking the time to read Snack Girl..... read more

The Worst Food of 2014
27 December 16, 2014

This year's worst food is really more of a concept. Though I will be flaming a particular entity..... read more

The Calories In Calories Out Cookbook: 200 Everyday Delicious Recipes under 400 Calories
5 December 15, 2014

I am always looking at cookbooks to get healthy ideas for this site and for my family. This one is a keeper.... read more

Five Quick Meal Ideas with Alexia Fries: Easy and Delicious


December 12, 2014

I love to eat fries but what I don't like is the lack of control when you go out to eat. Have you seen the piles of fries you are served?... read more

Sponsored by Alexia Foods

Virtual Cookie Swap: Almond Clouds
19 December 11, 2014

Do you have a party where everyone brings their favorite cookies and recipes?... read more

Mindful Holiday Noshing with Wonderful Pistachios: Giveaway
168 December 10, 2014

If you are looking for a way to lighten up this holiday, take a good look at in-shell pistachios.... read more

Sponsored by Wonderful Pistachios

Gifts Under $20 For Healthy Eaters
3 December 9, 2014

Do you have a family member or friend that is getting on the healthy train? Well, it is super easy to give them a practical gift to support them on the ride. read more

Make These Strawberry Santa Hats
5 December 8, 2014

You know how you have a holiday favorite that you make EVERY year.... read more

Buy A Beautiful Gift & Empower Women
11 December 4, 2014

I happen to love candles because my house looks best in candlelight (you can't see the dirt).... read more

Try To Mix it Up With Some Healthier Holiday Treats
12 December 3, 2014

Snack Girl realizes the point of holiday parties is to indulge. My issue is the amount of indulgence.... read more

Time to Buy a Pomegranate
21 December 2, 2014

This arrived yesterday via space ship. Should we eat it or make friends with it?... read more

Searching for the Perfect Gift? Look No Further (also, Massachusetts Snack Girl Events)
7 December 1, 2014

Looking for that unique something that your friend or family member doesn't have already?... read more

Top Ten Tips for an Enjoyable Thanksgiving
31 November 26, 2014

I hope that all of you have a wonderful Thanksgiving with family and friends.... read more

What To Give Your Local Food Bank
15 November 25, 2014

Thanksgiving is a few days away and you will probably be swimming in food. To relieve some of the guilt of excess, I suggest donating to your local food bank.... read more

Alfredo Meet Cauliflower: An Amazing Lighter Sauce
13 November 24, 2014

You know how pasta and cheese is the ultimate comfort food combination? What if the cheesy part was only 100 calories per cup?.... read more

Need A Retreat to Get on the Healthy Track? Check out Hilton Head Health
15 November 20, 2014

Sometimes we get so stuck in our unhealthy patterns that we need more than to buy a new exercise DVD.... read more

The Truth about Fruit Snacks
20 November 19, 2014

I have been asked about fruit snacks quite a few times and I hate it when the person is standing in front of me. read more

The Healthy Thanksgiving Round-Up
6 November 18, 2014

Yeehaw! It is time to get ready for the big event. I haven't planned a thing so I hope the rest of you are ahead of me.... read more