303 August 28, 2014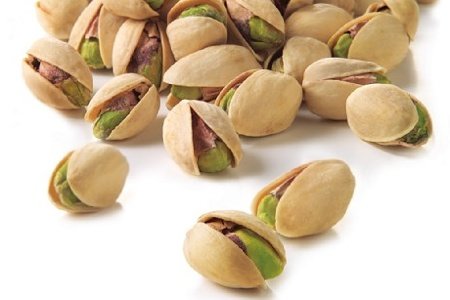 The word "love" is a strong one, but it succinctly defines my relationship with in shell pistachios.
I have deep feelings for other nuts (such as my best friend) but pistachios have earned a special place in my heart.
Continue reading Top Ten Reasons Snack Girl Loves Pistachios: Giveaway!
Recent Posts:
Snack Girl Has THE Taco Tuesday Recipe
12 August 27, 2014

If you haven't seen The Lego Movie then you don't live with an 8 year old boy.... read more

Top 10 Grab and Go Healthy Breakfasts
5 August 26, 2014

It is THAT time of year again when we rev our engines and run out the door without our pants on.... read more

Use Those Beautiful Tomatoes in Gazpacho
7 August 25, 2014

If you haven't tried a cold soup, now is your moment. As summer comes to and end, you cannot miss this experience.... read more

Where to Find Weight Watchers Friendly Recipes
12 August 21, 2014

Many of my readers are following Weight Watchers and, hopefully, seeing results.... read more

Peanut Butter and Jam Cookies (Vegan and Gluten-Free)
10 August 20, 2014

I am not on a gluten-fee vegan kick right now, but there are some great recipes coming from that crowd.... read more

Why "Added Sugar" Matters
19 August 19, 2014

The FDA wants to change the nutrition facts label to include "added sugars" versus the way it is now.... read more

A New Pizza – No Sauce and a Light Crust
20 August 18, 2014

Pizza is one of my forms of kryptonite. Not crappy Domino's pizza, but well-made, delicious pizza.... read more

Fig Newtons Are All Wrong
33 August 14, 2014

How can I pick on one of the best-selling cookies in America? The First Amendment says you can't stop me.... read more

Blender Vegan Key Lime Pudding
9 August 13, 2014

I don't like using my blender because then I have to wash it. It is bulky and takes time to put together and take apart.... read more

You Can't Always Get What You Want
23 August 12, 2014

I have a confession to make. I have been on vacation for almost 2 weeks..... read more

Make Your Own Strawberry Frozen Yogurt
6 August 11, 2014

I am SO proud of myself. I made this beautiful bowl of strawberry frozen yogurt (and then I ate it).... read more

The Greek Yogurt Taste Off
79 August 7, 2014

Which of these Greek yogurts is your favorite? I decided to taste them all and try to determine which one is the best.... read more

Time for Refrigerator Pickled Green Beans
15 August 6, 2014

I know you probably think it is time for potato chips – but you are wrong.... read more

Save Money With These 10 Budget Snacks
4 August 5, 2014

I walk into the grocery store and manage to spend $100 without breaking a sweat.... read more

Love Cheesecake? Give This A Try
14 August 4, 2014

I receive all sorts of requests for recipes. One reader wanted me to make a light version of cheesecake.... read more

10% Happier: A True Story of an Anchorman's Quest For Peace
10 July 31, 2014

There are two types of book that I can't get enough of – autobiography and self help (also know as self improvement).... read more

Eggplant Like You've Never Had Before
21 July 30, 2014

Many eggplant recipes start with a painful step to extract the bitter taste found in some bigger, older eggplants.... read more

Are You Having Fun When You Exercise?
20 July 29, 2014

Exercise can be a chore. I find that it can hurt and make me uncomfortable.... read more

Tasty Marinara Sauce in Six Minutes
18 July 28, 2014

Yes, I know you can buy a jar of marinara sauce that means you will have sauce in NO minutes – but hear me out.... read more