18 October 30, 2014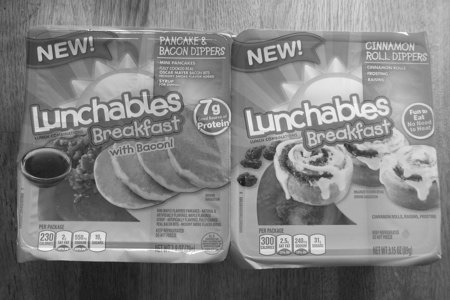 Someone told me about this new product from Oscar Mayer and I thought they were joking.
Noooo. They didn't make a Lunchables for breakfast, did they? I mean isn't the name, LUNCHables?
But, alas, this person was right. I know, dear readers, that you want me to be supportive and encouraging – but I do get angry at major food companies that aren't paying attention to an obesity epidemic in CHILDREN.
Continue reading Don't Buy This at the Supermarket
Recent Posts:
Meet the Bloomin' Apple
13 October 29, 2014

I am always on the hunt for a new way to enjoy apples. This caramel apple inspired treat is pure genius.... read more

The Granola Bar Versus The Popcorn Bowl
11 October 28, 2014

Let's say you were hungry and someone offered you a 100 calorie granola bar or 100 calories of popcorn. Which would you choose?... read more

Stop Buying Sliced Turkey Breast: DIY Turkey
18 October 27, 2014

My last visit to the supermarket revealed that the big bird is back in town.... read more

The Salad Vs. The Big Mac
24 October 23, 2014

travelled last week to Atlanta and found myself hungry in an airport. Oh dear..... read more

Top 11 Pumpkin Recipes
3 October 22, 2014

What is there not to like about pumpkin?.... read more

What to Give Out on Halloween
16 October 21, 2014

I choose to go to Target for Halloween treats because it is nationwide and I am attempting to find a solution for everyone in the USA.... read more

Savory Corn Meal Waffles For Dinner
10 October 20, 2014

We all get into major cooking ruts where the question, "What's for dinner?" begins to try us crazy.... read more

Snack Girl Class in Marietta, Georgia Tomorrow – October 18th
9 October 17, 2014

I will be at the Cook's Warehouse in Marietta, Georgia teaching a FREE class about healthy eating from 3-4 PM..... read more

Are Quaker Real Medleys Real Food?
23 October 16, 2014

I love how Quaker uses the word "real" because it makes you think the product isn't fake.... read more

You Must Try This Carrot Salad from LaaLoosh
4 October 15, 2014

It is carrot season and time to get out your peeler.... read more

Pumpkin Gingerbread
13 October 14, 2014

This lovely gingerbread includes only four ingredients.... read more

How Important is the Family Meal?
12 October 13, 2014

Ahh, yes! That is a photo of my house and my happy and clean family enjoying each other.... read more

PB&J Protein Smoothie from Eating Bird Food
7 October 9, 2014

Doesn't that look good? A lot better than bird food no doubt.... read more

Real Food for Halloween
10 October 8, 2014

I am a Halloween expert. My kids already have costumes and I can strut by the massive candy mountains in stores.... read more

Sneaky Zucchini Lasagna
12 October 7, 2014

Lasagna is one of those foods that top favorite foods lists..... read more

When Weight Watchers Doesn't Work
75 October 6, 2014

I know many of you are Weight Watchers members and find the program helpful.... read more

How To Become a Marathoner and Spiced Butternut Squash Muffins from Fannetastic Food
4 October 2, 2014

Anne is a Registered Dietician and a marathoner. How healthy can you be?... read more

Love Buffalo Chicken Wings? A Dip That Will Satisfy
7 October 1, 2014

Buffalo chicken wings are usually served with a few sad sticks of celery.... read more

Put The Diet Coke Down
49 September 30, 2014

I know what you are thinking, "No, Snack Girl, you put it down.".... read more