30 November 26, 2014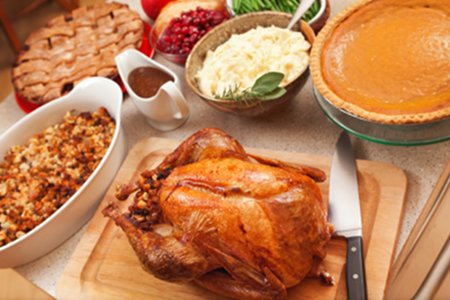 I hope that all of you have a wonderful Thanksgiving with family and friends.
This list is for those of us who go into Thanksgiving blindly without considering all the things that can go wrong. I am a worrier by nature so I thought I would put together a few of my tips for dealing with Thanksgiving mishaps and issues (such as eating so much food that you have to lay down for a few hours).
Continue reading Top Ten Tips for an Enjoyable Thanksgiving
Recent Posts:
What To Give Your Local Food Bank
14 November 25, 2014

Thanksgiving is a few days away and you will probably be swimming in food. To relieve some of the guilt of excess, I suggest donating to your local food bank.... read more

Alfredo Meet Cauliflower: An Amazing Lighter Sauce
11 November 24, 2014

You know how pasta and cheese is the ultimate comfort food combination? What if the cheesy part was only 100 calories per cup?.... read more

Need A Retreat to Get on the Healthy Track? Check out Hilton Head Health
15 November 20, 2014

Sometimes we get so stuck in our unhealthy patterns that we need more than to buy a new exercise DVD.... read more

The Truth about Fruit Snacks
19 November 19, 2014

I have been asked about fruit snacks quite a few times and I hate it when the person is standing in front of me. read more

The Healthy Thanksgiving Round-Up
6 November 18, 2014

Yeehaw! It is time to get ready for the big event. I haven't planned a thing so I hope the rest of you are ahead of me.... read more

DIY Cranberry Sauce: You Will Never Go Back To The Can
36 November 17, 2014

Last year I posted this recipe and thought, "No one is going to read this.".... read more

Introducing The Online Taste of Home Cooking School ($10 Discount)


November 16, 2014

Do you know that college kids take classes in their pajamas? It makes the old days of getting dressed and trudging to class seems so….old..... read more

Sponsored by Taste of Home Cooking School Online

Stuffing From A Bag: Can You Improve It?
43 November 13, 2014

After making my own stuffing from scratch, I realized that my supermarket sells stuffing in bags and boxes.... read more

Turkey Breast: The Slow Cooker Method
23 November 12, 2014

A few weeks ago, I roasted turkey breast and found out that I had done it all wrong..... read more

The Scary Starbucks Chestnut Praline Latte
35 November 11, 2014

Oh yeah. Starbucks is here with their holiday tradition of the MUST have drink... read more

Butternut Squash Soup in Pumpkin Bowls
7 November 10, 2014

Doesn't this look festive? Your guests will be impressed by your ingenuity (and less bowls to wash)... read more

The Trouble With Bagels
40 November 6, 2014

Dear readers, there is SO much you don't know about me. I keep many aspects of my life hidden.... read more

Do-It-Yourself Instant Oatmeal: Healthy and Insanely Easy
25 November 5, 2014

There is an entire ¼ aisle of my grocery store devoted to little packages of oatmeal.... read more

Are You Afraid of Genetically Modified Organisms (GMOs)?
54 November 4, 2014

I have chosen to be silent on this issue for a variety of reasons.... read more

Time To Make Vegan Thanksgiving Stuffing
10 November 3, 2014

Are you ready for Thanksgiving? It will be here before you know it.... read more

Meet Snack Girl in the Finger Lakes and in Western Massachusetts
12 October 31, 2014

I am getting out from behind the computer and sharing my insights on how to keep the weight off over the holidays. My dog, however, is not coming with me.... read more

Don't Buy This at the Supermarket
30 October 30, 2014

Someone told me about this new product from Oscar Mayer and I thought they were joking.... read more

Meet the Bloomin' Apple
14 October 29, 2014

I am always on the hunt for a new way to enjoy apples. This caramel apple inspired treat is pure genius.... read more

The Granola Bar Versus The Popcorn Bowl
13 October 28, 2014

Let's say you were hungry and someone offered you a 100 calorie granola bar or 100 calories of popcorn. Which would you choose?... read more